SIGEL – the competence brand for New Work
SIGEL – the competence brand for New Work
The innovative competence brand SIGEL stands for New Work and inspired work using collaborative, agile working methods. We are shaping the digital future as innovation leaders for modern working environments.
Inspiration for work with SIGEL
Today's working environments are becoming more digitalised than ever before. During this period of transition, there is a strong desire for clarity. When the working day is less clear-cut and more difficult to predict, it is efficient work processes and smart product solutions that will produce the most successful results.
With 75 years of experience and innovative power behind the company, SIGEL has become synonymous with innovative, beautifully designed office products. We enable successful work. At the same time, we never forget the human factor, tailoring our products to what people really need, both now and in the future. After all, it is people that make the difference, especially in our increasingly digitalised world. SIGEL products and solutions increase motivation and creativity through workspaces designed to inspire. Our extensive, multiple award-winning, innovative range of high-quality office products is geared towards the demands of modern working environments. Along with our range of clever digital solutions, our products enable "New Work": modern working environments for motivated employees.
To achieve this, we rely on three central principles: creativity, collaboration and customer focus. For SIGEL, people are the heart of all business activities. After all, it is people, with all their individuality and diversity, that make the difference, even in today's digital world.
Logo and mission statement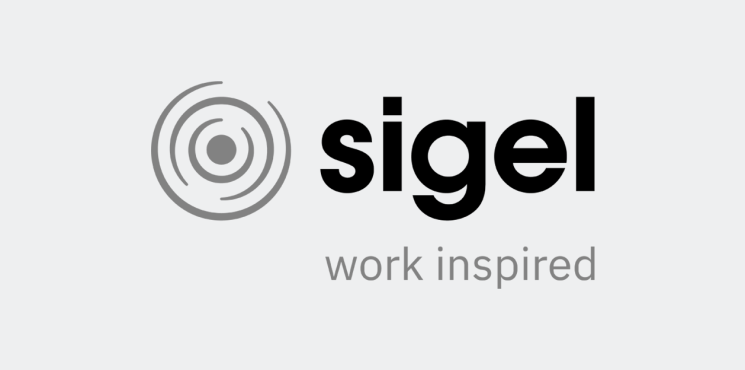 Logo and mission statement
As an innovative leader for contemporary working environments, SIGEL is part of the digital future. Our progressive brand identity can be seen in our logo and mission statement: the wavy image on the logo depicts the impulses that support creative collaboration in the working world as waves of inspiration. The clear, concise mission statement expresses SIGEL's vision of improving working methods: work inspired. Our picture icon also illustrates this. It consists of concentric circles spreading out from a central point. These circles are created when a drop of liquid falls onto water, producing waves. They symbolise the impulses that create waves of inspiration and support creative collaboration in modern work environments: inspiration generates innovation.